NABCI-Canada – Update
The NABCI-Canada Council had a teleconference call on September 21, 2018. This teleconference resulted in the endorsement of a NABCI-Canada Work Plan for 2019-2022. The work plan is available on the NABCI-Canada website. Committees are currently being formed to implement the recently endorsed work plan. You may consult the NABCI-Canada Work Plan for 2019-2022 on our website.
For more information on the work plan or to contribute to the NABCI-Canada committees, please contact the NABCI-Canada Coordinator directly (ec.icoancanada-nabcicanada.ec@canada.ca ).
We would like to welcome a new Chair to the NABCI-Canada. Julie Spallin, who is the new Director General of the Canadian Wildlife Service's Wildlife Management Directorate, recently joined our partnership. Julie comes to Environment and Climate Change Canada from Transport Canada where she worked as the Executive Director for Emergency Preparedness. Julie brings a high level of experience to her new role with her background in regulatory program management, strategic planning and risk management.  In addition to gaining extensive experience managing public safety and security programs at Transport Canada, she also served as Director of Liaison to the US Department of Homeland Security in Washington.  Welcome Julie!
We would like to wish farewell to Veronica Aponte as she has accepted a new position with the Canadian Wildlife Service as Coordinator for the Breeding Bird Survey.  Veronica Aponte and Bob McLean have done a fantastic job of revitalizing NABCI-Canada in the past year as they  helped direct the NABCI-Canada Council.  We will miss both of their leadership roles role but we're thrilled by the news that Veronica will continue to be active within the NABCI-Canada through participation in the Communications committee. Thank you Veronica and Bob for all the work you've done!
News from Partners
Boreal Avian Modelling (BAM) Project:  Learn about BAM's latest achievements in their 2017-2018 Annual Report. This report encompasses results from BAM's Research and Monitoring projects and highlights different conservation outcomes as well as collaborations.  BAM's annual report highlights the value of research efforts in the boreal landscape, which has traditionally been an area where data was more difficult to obtain. Explore the BAM's findings, such as regional niche differentiation for Canada Warbler and a variety of other studies. Results from the research supported by BAM will be especially important to guide and inform conservation actions for our boreal birds.
The U.S. NABCI Human Dimensions Committee has recently published a Story Map that highlights 13 stories that highlight the sheer breadth and depth of social science integration within the bird conservation community. Combining expertise from the fields of human dimensions and ornithology can improve bird conservation approaches and outcomes. It can lead to a better understanding of why people implement conservation actions or support funding for habitat conservation. These Success Stories offer examples of how human dimensions research can maximize limited financial and staff capacity by supporting the design of conservation programs that work with and for people. Get inspired to effectively incorporate social sciences into bird conservation by visiting the Story Map!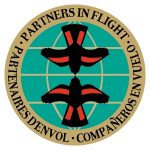 Partners in Flight: NABCI-Canada and Partners in Flight shared a booth at the International Ornithological Congress 2018 this past August. The NABCI-Canada Coordinator, Marie-France Noel, had the opportunity to speak with Radio-Canada Vancouver about our partnerships and initiatives and the importance of international partnership for the conservation of migratory birds. Similarly, Partners in Flight's Dr. Alaine Camfield had the opportunity to speak with Bob MacDonald on Canada Warbler and Neotropical migratory songbird conservation on CBC's Quirks and Quarks. Dr. Camfield's interview starts around the 30-minute mark.
Stories from the Field
Cap Bimet's Initiative to Save its Threatened Bank Swallows
Written by Marie-France Noel, NABCI-Canada Coordinator
Recently, NABCI-Canada drafted a NABCI-Canada work plan that included the following communications priority: Using various communications platforms, showcase success stories, best practices and interesting pilot projects that demonstrate progress especially for bird groups at high risk (grassland birds, shorebirds, seabirds and aerial insectivores).
In order to communicate these stories that demonstrate progress for our birds most at risk, we need to find examples that are currently being applied to these bird groups. Unfortunately, these examples can be quite rare and that is why NABCI-Canada has decided that it would be their priority to showcase these stories. As such, I hope that this story inspires you to undertake projects in an effort to recover our birds at risk in decline.
I heard about efforts to build an artificial nesting structure for Bank Swallows, a threatened aerial insectivore protected under Schedule 1 of the Species at Risk Act. The residents of Cap Bimet and Beaubassin-Est in New Brunswick remember when there were many more Bank Swallows in the spring and summer time nesting on the coastal banks. Today, some of these banks have been modified for various reasons, including erosion control, which would prevent Bank Swallows from nesting. It's estimated that the Bank Swallow population has declined by 95% since the 1970s according to the Status of Birds in Canada (2014) website. Some of the people that resided in the area throughout the 1970s remember when the large number of these Bank Swallows would forage on the mosquitoes and other various flying insects, thereby enhancing the residents' quality of life. This unfortunate outcome inspired members of the community to jump into action.
As construction in Cap Bimet in 2016 reduced a nesting site for approximately 60 swallows, a group of concerned citizens decided that something had to be done. That's when the Cap Bimet Swallow Society was created. They embarked on a project to create artificial nesting sites for the Bank Swallows that return to the area in the spring of 2018. This is a unique project to attract Bank Swallows to an artificial nesting site. An initiative was launched by the Swallow Society with the help of the Canadian Wildlife Service, local residents, academic experts from Mount Allison and Dalhousie universities, engineers, biologists, geologists, as well as contributions from the private sector and local non-profit organizations. Although artificial nesting sites have been created unintentionally at quarries in the past, this effort is rare and deliberate and the site would ensure that the bank for the swallows wouldn't be threatened by development.
In 2018, the artificial site went through its first nesting season without any residents. It may take a few years for the newly built bank to cure and attract nesting swallows. As such, we hope that the Cap Bimet Swallow Society does not give up hope as we understand how challenging conservation work can be. Continued maintenance, improvements and addition of topsoil is planned for the artificial nesting bank in order to increase the chances of attracting Bank Swallows to the site. We, at NABCI-Canada, would like to recognize the hard and sometimes thankless work of volunteer partners such as the Cap Bimet Swallow Society. We're crossing our fingers that the swallows come back in 2019!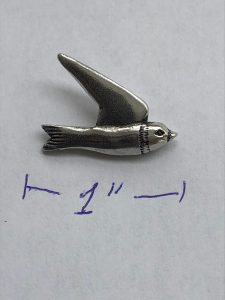 The Cap Bimet Swallow Society supports its project through the sale of pins (pictured above). They are available for $15 each with proceeds going towards the swallow projects. To contact the Cap Bimet Swallow Society for more information and for other initiatives that they're undertaking, e-mail cbss.shcb@gmail.com