International Migratory Bird Day 2017

This year, the theme of International Migratory Bird Day (IMBD) is "Stopover Sites: Helping Birds along the Way". The theme highlights the paramount importance of staging areas for bird survival along their long and sometimes risky migration between breeding and wintering grounds. The significance of stopovers has often been overlooked, in part due to their variability in use and the little amount of time birds tend to spend on them. However, these areas are used as "gas stations" to replenish energy reserves for the next leg of the journey. Stopover habitat quality can have an impact on bird survival, the amount of time required until they need to rest and refuel again thus affecting the duration of their migration journey. In addition, several studies have found that birds can exhibit stopover site fidelity making it all the more serious when habitat destruction occurs or alterations are made to them.
Raise awareness about the importance of stopover sites for birds by joining a celebration near you! IMBD takes place the second Saturday in May in Canada and the United States (13 May 2017), and later in October in Mexico, Central/South America, and the Caribbean. Of course, if these dates do not work for you, celebrate when you can – any day can be a Bird Day!
NABCI-Canada – Update
The NABCI-Canada Council will have a teleconference meeting at the end of May to discuss the new roles and functions that emerged from the winter consultations. With a new and clear direction, NABCI-Canada seeks to more effectively advance its bird conservation mandate through its partners. This meeting will set the stage for the face-to-face Council meeting scheduled to take place in fall 2017.
Vision for the next century of bird conservation
NABCI-Canada, along with its U.S. and Mexican counterparts, has been supporting work to incorporate comments on the original draft of the tri-national vision for bird conservation which was initially developed through the collaboration of the federal wildlife agencies of Canada, U.S. and Mexico and launched in December 2016. A review of the new draft and an implementation strategy for the vision statement are topics that will be discussed at the Migratory Birds table during the Trilateral Committee of Wildlife and Ecosystem Conservation and Management meeting which is taking place in Ensanada, Mexico during the week of May 15-19. 
News from Partners
The Canadian Intermountain Joint Venture, the habitat joint venture located in the Interior of British Columbia and the Rocky Mountains of Alberta, will soon be publishing their latest all bird plan which will be posted online. Be on the lookout for updates on their website!
The new Partners in Flight website is now live! The website has a fresh new look and more in-depth content than before. The 6th International Meeting of Partners in Flight has been announced to take place in conjunction with the Mesoamerican Society of Biology and Conservation, from October 30 to November 3, 2017, in San José, Costa Rica. This year the meeting theme is "Conservation of biodiversity in the hands of Mesoamerican women". The meeting will promote conservation of birds throughout their life cycles and increase partnerships with students and professionals in the region. In addition, PIF hopes to fuel discussions around the socioeconomic benefits of bird and biodiversity conservation. For information on the hotel, a complete list of themes and for information regarding proposal submissions, visit this forum. The deadline to submit proposals for bird-related symposia, workshops, courses, forums, and special lectures is May 19, 2017.
Stories from the Field
Protecting one of the last remaining intact forests on Earth, written by Veronica Aponte, NABCI-Canada interim coordinator
The Boreal Forest is a globally significant habitat: it supports populations of mammals, birds and fish; it is a major carbon sink for the world and holds the most surface freshwater on the planet. Yet many industrial disturbances are taking place in this rich and important habitat. Canada's Boreal Forest, "North America's bird nursery", is also home to the oil sands. But partnerships can emerge from these seemingly incompatible worlds. Such an association was born between Suncor Energy and Alberta Conservation Association when, in 2003, they formed the Boreal Habitat Conservation Initiative to preserve ecologically significant areas of Alberta's boreal forest. A relationship like this occurs when industry and environmental non-government organizations (ENGOs) can manage to set aside their disagreements, and "agree to disagree", in order to find common ground and mutual benefit in working together. The Boreal Habitat Conservation Initiative first started because Suncor was looking for opportunities to offset their environmental footprint and Alberta Conservation Association needed funds to help advance their conservation mission. Since then, nearly $6.15 million has been invested, over 8,800 acres have been protected and 39 conservation sites1 have been created2. The Boreal Habitat Conservation Initiative continues to acquire land parcels and manage habitat in the boreal forest in Alberta.
Last October, the Boreal Habitat Conservation Initiative secured land within the Deadwood Focus area (one of six ecologically significant focus areas in the Alberta boreal region they identified) thanks in part to supplementary contributions from the Habitat Stewardship Program – Prevention Stream and the collaboration of the Alberta Fish and Game Association. Funds were pooled together from the federal government, ENGOs and Suncor to purchase 320 acres of native dry mixed-wood and wetland habitat for five priority bird species (American Bittern, Black Tern, Northern Harrier, White-throated Sparrow and Wilson's Snipe) within the Boreal Plains area of BCR 6. This land was selected due to its high ecological value, connection to surrounding protected areas and long-term potential for management as a conservation site. The Alberta Conservation Association recently secured funding support from the Alberta Land Trust Grant Program, for long-term management of the site. It will be managed in perpetuity following a management plan that will outline long- and shorter-term goals and objectives for target species, while providing consumptive and non-consumptive recreational opportunities to Alberta citizens.
Important conservation work such as this invites the question: how much protected habitat is enough to ensure that the Boreal Forest maintains its ecological functions and effectively supports biodiversity and where should those areas be? In the Canadian Boreal Forest Conservation Framework report, the Boreal Leadership Council states that at least 50 % of large interconnected intact boreal forest habitat is required in order to give this ecosystem and the wildlife it sustains the chance to survive the many threats they face, as interest in resource development in the region escalates. Strategic conservation planning is an important tool that can be used to identify where, in the boreal forest, protected areas and conservation measures would be most beneficial to support biodiversity. Collaborative work done by the Boreal Avian Modelling Project and the Canadian Wildlife Service aims to do just that for a suite of 60 landbird species. Using predicted density models and the program Zonation, priority conservation areas can be identified while considering variables such as anthropogenic disturbance, climate change and the species population trends.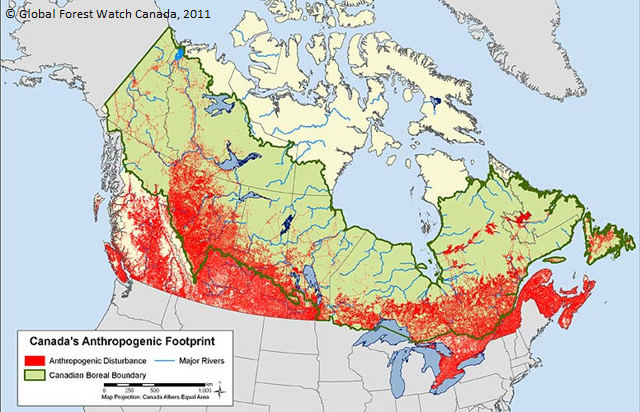 The Boreal Forest encompasses roughly 1,400 million acres (about 60 % of Canada's total land area), and some sources estimate that at least 180 million acres (over 10 %) have already been disturbed by some type of industrial activity (see map of Canada's anthropogenic footprint below)3. This means that the vast majority still remains intact, providing the unique opportunity for us to be proactive about how we approach the management of the remaining forest. In some regions, Indigenous groups have demonstrated leadership in comprehensive land-use planning and stewardship, recognizing the need for a healthy future for their lands while allowing economic opportunities to remain viable for the future4. However, an estimated 30 % has already been reserved for some form of current or future development and as of 2015, only 10 % of the Boreal Forest was formally protected in federal and provincial/territorial protected areas5.
Collaborative work done by partnerships such as the Boreal Habitat Conservation Initiative, the North American Bird Conservation Initiative and many others plays an important part in protecting habitat. We need to continue our efforts to find common ground and shared goals in order to successfully protect at least 50 % of the Boreal Forest, one of the world's last great forests.
1 For a list of Alberta Conservation Association conservation sites that Suncor contributed to, visit: http://www.albertadiscoverguide.com/, and search "Suncor".
2 http://www.ab-conservation.com/our-partners/corporate-partners-in-conservation/suncor-energy-foundation/ (accessed April 13, 2017)
3 Boreal Songbird Initiative: http://www.borealbirds.org/threats-canadian-boreal-forest (accessed April 19, 2017)
4 Wells, J., D. Childs, F. Reid, K. Smith, M. Darveau, and V. Courtois. 2014. Boreal Birds Need Half: Maintaining North America's Bird Nursery and Why it Matters. Boreal Songbird Initiative, Seattle, Washington, Ducks Unlimited Inc., Memphis, Tennessee, and Ducks Unlimited Canada, Stonewall, Manitoba.
5 Environment and Climate Change Canada